JULY 13, 2012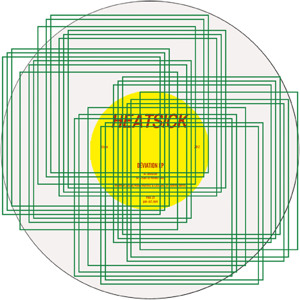 Summertime can really have an effect on people. The second release from Steven Warwick under his enigmatic Heatsick guise comes wafting off the shores of a much more foreboding, frosty project known as Birds of Delay. His work operating in the drone sphere of experimental acoustics with Luke Younger, aka Helm (who's debut solo release on PAN, Impossible Symmetry, is akin to Raime on mushrooms), makes his second EP as Heatsick all the more entrancing, seducing the listener in with a well-masked streak of mischief that manifests itself as groove incarnate.
The tracks on Deviation are as his moniker suggests: humid, roiling, blissfully unaware of the light-headed waves that continuously shudder the nervous system into rhythmic response. The instrumentation sounds completely outside the box; that is, analog drum machines and beaten-to-pulp synths injected warmly with layers of subtly treated, panting compression. The effect? A steamy dance-off that elicits eyes down, hands up moments of outdoor reverence which leave you bathed in sweat, but the welcome kind: glistening, grinning, and sighing with extra satisfaction at the next lick of breeze to grace your pores.
Warwick tunnels grooves on this 4-track experience almost entirely in line with the third track of his Heatsick debut last year, "Tertiary," honing rhythmic patterns and melody progressions that seem as natural as bucking your knees in-time with a beat. There are traces of baile and cumbia, but not in a way that makes you point and say "Hey, I recognize that!" The beauty of Deviation lies in its producer's ability to create an environment where you don't think, but move. That's not to say this is purely a dancefloor record; I had plenty of fun vibing the fuck out in my own head on the Brooklyn-bound A train to "C'etait un rendez-vous" and "No Fixed Address." But in today's stuffy and over-wrought musical climate, teeming with 808s, pitched vocals, and the same recognizable tropes tune after tune...it is damn refreshing to hear someone making music that just feels so fun and loose.
It must be the heat!
Plab Vinyl Verdict: BUY
-Cambo